Tourism Development Financing Program
— Is there a sector of local tourism activity in your area which has reached such high demand, that current tourism product cannot meet?
— Does your current, updated Community Comprehensive Plan identify and address these demands?
— Do your current, updated Tourism Development Plan and Tourism Marketing Plan identify, benchmark and track traveler visitation, activity and visitor spending?
— Do potential Developer partners have a current Market / Feasibility Study with research and data proving their project can fill that local Deficiency?
— If you've answered "Yes" to these key tenants of tourism development and marketing, then the Commonwealth's Tourism Development Financing Program (TDFP) may be a consideration for your community.
DEFICIENCY
These deficiencies are well researched and substantiated in a community's Comprehensive Community Plan, a Local Tourism Development Plan and through independent Market Studies
Prospective projects filling such deficiencies must generate Virginia sales and use tax, such as lodging, dining, meeting space rental and catering, and limited, project-specific retail
COVID-19 RESOURCES
The ongoing COVID-19 crisis has greatly affected traveler visitation, spending and tax revenue in Virginia, and will continue to do so. As international, domestic and Virginia travel health and safety protocols dictate new phases of activity, these recovery marketing opportunities can help you grow and track traveler visitation and spending.
Research & Resources
To find the latest in tourism and visitor research and updates, please visit Virginia Tourism's COVID-19: Industry Response Toolkit
Update your marketing plan
Create and invest in new marketing and leveraging programs by visiting VTC's Messaging and Content Strategy and Brand Response/Marketing
GAP FINANCING
The TDFP's Gap Financing reallocates a quarterly percentage of state collected sales and use taxes from a certified project created via TDFP
In the TDFP program, the Locality is the Applicant, not the Developer
The Developer assumes all debt with Lenders. If a Locality's deficiency is proven, the Developer must secure all the lending required to finance the project, with the agreement that the State, Locality and Developer will each pay an equal third of the Developer's gap financing loan to the gap Lender
The TDFP provides two different tiers of financing to compensate for a shortfall in project funding. Eligible projects with a total cost of less than $100 million fall into Tier 1, while eligible projects with a total cost of $100 million or more fall into Tier 2. The image below highlights the program's two tiers of financing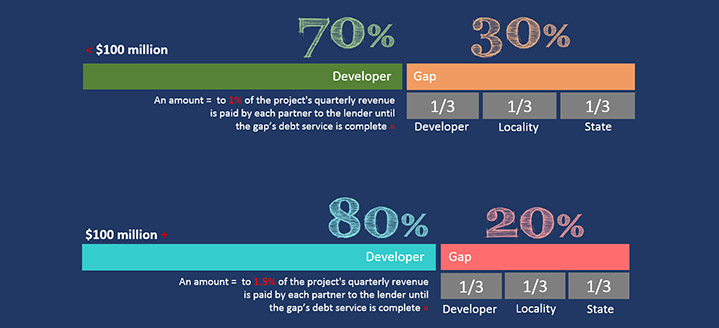 The purpose of the program is to provide a gap financing mechanism for projects that cannot, otherwise, find 100% funding or lending for a project
The image below outlines the TDFP payment process once the qualified business has opened and started generating revenue