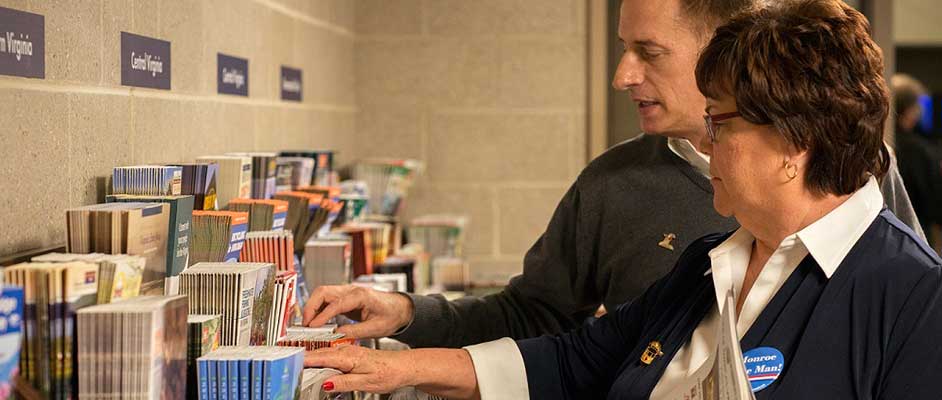 Consumer Services is the front line for serving Virginia's visitors, potential visitors and Virginia's destinations. Our mission is two-fold:
Ensure that consumers have a positive experience during every aspect of their Virginia vacation, from planning to touring.
Integrate Virginia's tourism industry to present a unified Virginia to our visitors. A Virginia that's accommodating, knowledgeable and radiates southern charm.
There are 12 official Virginia Welcome Centers that are strategically placed at gateways throughout the Commonwealth. They are responsible for assisting more than 2 million visitors annually and are often the first stop for Virginia visitors. Our professional travel counselors generate additional travel revenue through their one-on-one visitor assistance, on-site reservation service, and brochure distribution.
Showcase Your Product at a Virginia Welcome Center and/or Safety Rest Area. The PMAP (Partnership Marketing and Advertising Program) program was established by Virginia Tourism Corporation to create a variety of advertising opportunities at Virginia Welcome Centers and Safety Rest Areas throughout the commonwealth.
Consumer Services Center
Our fully-integrated center responds to consumer inquiries via 1-800-VisitVA and email generated through Virginia.org. The center's Travel Counselors provide consumers with assistance via phone and electronic mediums, 24 hours a day, seven days a week. These skilled and well- trained counselors provide travel assistance and general information by utilizing www.virginia.org as their primary reference source.
Fulfillment & Distribution
Consumer Services oversees the fulfillment and distribution of more than 400,000 Virginia Travel Guides annually. Consumer Services also manages the distribution of bulk brochure requests for various Virginia travel guides and brochures as well as fulfill interest-specific requests with targeted guides such as Virginia Civil War newspapers and the Virginia Golf guides. Industry partners, such as localities, individual attractions and other tourism-related facilities are encouraged to stock these informative publications for their visitors.
Order Bulk Publications
Visitor Center Seminar
The Certified Tourist Information Centers seminar is a once-a-year opportunity for managers and employees of visitor centers across Virginia to network with their colleagues, learn new tactics for visitor center operations, receive motivational messages from experts in the customer service field, and tour different regions of the state for a first-hand look at the tourism product. Learn more about the Visitor Center Seminar
Tourist Information Center Certification
Consumer Services administers the Certified Tourist Information Center program. This program encourages local and regional visitor centers to meet requirements and operate under guidelines as set by VTC. This program promotes standards that enhance and also simplify the travel experience for Virginia visitors. Certified centers qualify for a myriad of services from VTC. Learn more about the Certification Program
Rest Area Brochure Distribution
Distribute your brochure to safety rest areas throughout the Commonwealth by placing your order on www.welcomeva.com.