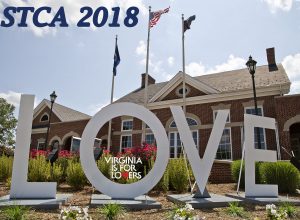 Roanoke, VA, April 22-24
Please join us in Roanoke, VA for the 2018 STCA (Southeast Travel Counselors Alliance) Meeting.  Roanoke is nestled in Virginia's scenic Blue Ridge Mountains and is known for its metro-mountain mix of adventure and entertainment. The Hotel Roanoke is one of Virginia's most historic properties, welcoming guests to the Roanoke Valley since 1882. The hotel's stylish, newly renovated guest rooms offer a sense of the past and feature all modern day essentials, including complimentary WiFi, just steps away from Roanoke's robust and lovely downtown.
The Roanoke-Blacksburg Regional Airport serves the area and is within 10 minutes of the hotel. A convenient hotel shuttle service is available and Uber is popular in the area as well.
Room Reservation Information:
On your behalf, VTC has secured a reduced event rate at the Hotel Roanoke. This rate will be honored for room nights, April 22-25. Please reference "STCA Meeting" for a rate of $107.00 per night. The room rate is good for two nights before and after the event dates. If you need lodging before April 22 or after April 25, please make your reservations through the toll-free number. Otherwise, you can use the booking link below.
Hotel Roanoke
110 Shenandoah Avenue
Roanoke, VA 24016-2025
Reservations (866) 594-4722 or https://book.passkey.com/e/49616612
Preliminary Meeting Schedule:
Location:  Hotel Roanoke
Sunday, April 22 – Attendee Arrivals and possible evening reception
Monday, April 23 – 8:30a-12:30p….Meeting Part I
Monday, April 23 – 12:30p-until……Lunch, Mini FAM, reception and dinner
Tuesday, April 24 – 8:30a-2:00p…..Meeting Part II (including lunch)
Meeting Registration:
In order to support and offset the host state's financial commitment, and as agreed upon by members during last year's meeting, we are implementing a $75 attendee fee.
To register and reserve your space, please follow this link to submit the registration form and payment.
Need assistance or have questions?  Contact Val Guffy [email protected] or 804-545-5588