American Evolution™ Marketing Grant Program applications are now closed.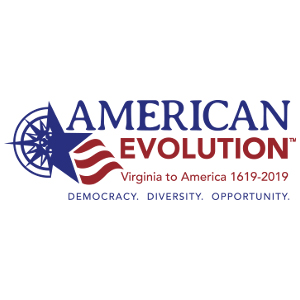 New! Maximum Award Amount $10,000.
The 2019 Commemoration was created by the Virginia General Assembly to plan, develop, and carry out programs and activities under the brand American Evolution™ to commemorate the 400th anniversary of key historical events that occurred in Virginia during 1619, and that continue to influence our nation today. In conjunction with the creation of the American Evolution™ Digital Trail, American Evolution is sponsoring a marketing grant program – administered by the Virginia Tourism Corporation (VTC) – is to assist Virginia localities to establish and market their own destination, history and connection to the American Evolution.
This objective can be accomplished through the following actions:
Establishing and promoting a local or regional historic trail(s) that aligns with the commemoration themes of democracy, diversity and opportunity.
Creating and promoting itineraries for tourism to the locality or region aligned with the commemoration themes, local or regional trails, and American Evolution™ Digital Trail Sites.
Promoting American Evolution to build awareness of the commemoration and Virginia's role in the creation of the United States.
Proposed projects must promote American Evolution's themes of democracy, diversity and opportunity, and its vision of reinforcing Virginia as a leader in education, tourism and economic development. Projects must also encourage visitation to the Commonwealth of Virginia. Programs that are regional in scope are encouraged.
To apply for the American Evolution grant, please download the application available in the box under the red header "Additional Information".