2019 Commemoration Finale Grants are closed.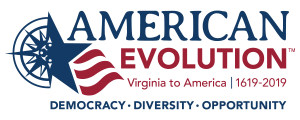 The 2019 Commemoration, American Evolution was created by the Virginia General Assembly to plan, develop, and carry out programs and activities to commemorate the 400th anniversary of key historical events that occurred in Virginia during 1619, and that continue to influence our nation today. 
 In November 2019, the 2019 Commemoration, American Evolution is inviting America to "Come Home to Virginia" for the Virginia Customs, Cultures, and Cuisine Festival.  Local, regional, and statewide events will highlight the customs, cultures, and cuisine of 400 years of Virginia history to create a contemporary experience for all ages. This special, month-long capstone to the 2019 Commemoration, American Evolution will foster statewide participation, tourism marketing and promotion, and public events.
The purpose of the 2019 Commemoration Finale Grant Program – administered by the Virginia Tourism Corporation (VTC) – is to provide Virginia organizations and communities with the resources to participate in the 2019 Commemoration, American Evolution's Finale Month and to create a network of statewide partners who will bring the commemoration to their locality or region throughout the Commemorative year. The grant may be used for planning, execution, and/or marketing for events taking place between November 1-30, 2019.  Events must reflect the theme of Virginia's Customs, Cultures and Cuisines.
Promotion of the Virginia Customs, Cultures, and Cuisine Festival will begin in May 2019 with a Finale Booklet designed to promote tourism throughout the Commonwealth of Virginia.  This booklet will highlight grant recipients and applicants with a combination of event listings, tourism itineraries sourced from grantees, and stories about the people, places, and things that shaped Virginia's past and continue to influence our future. Stories included in the Finale Booklet will also be promoted on the 2019 Commemoration, American Evolution digital storytelling platform, AEStories.com.
Additionally, in remembrance of 400th anniversary of the First Official English Thanksgiving in North America, the 2019 Commemoration will invite all Virginians to Share the Spirit of Thanksgiving – a time to give thanks, come together across cultures, and support local food banks or hunger relief organizations so that all Virginians are included in a special Thanksgiving in 2019.
To apply for the American Evolution grant, please download the application available in the box under the red header "Additional Information".