Advertise in our Email Marketing Program where you can reach over 250,000 subscribers.
VTC offers a variety of placement options in our newsletters. (See the mock up)
*NEW* VTC now offers four (4) quarterly dedicated Partner Posts. Working directly with VTC's Communications Team, together we'll create an email highlighting all that your destination has to offer. Please contact Caroline Logan for more information ([email protected]).
Requirements
1. No more than 4 placements per advertiser per the VTC fiscal 12 months – July through June
2. No more than 1 placement per email per advertiser
3. Multiple placements by a single destination should each show a unique selling point and not duplicate entries
4. Placement ad should relate to the content of the email
More Information
2020 Email Marketing Program Specification and Rates
Position #1
Specs
Copy
Image
Links
open to CVB's and Travel Related Destinations. Not Individual properties.
40 words max; copy must match theme of newsletter (title does not count in the total copy count)

include a title and button text

700×420 resolution; image must support the placement and should not be a logo
3-5 links including in text links

Monthly
History
Outdoor
Sites/Attractions
$1,800.00
$1,200.00
$1,200.00
$1,200.00
Positions   #2 and #3
Specs
Copy
Image
Links
open to travel related properties, destinations, events, packages/deals, etc.
20 words max; copy must match theme of newsletter (title does not count in the total copy count)

include a title and learn more text

500×500; image must support the placement and should not be a logo
1-3 links including in text links
Monthly
History
Outdoor
Sites/Attractions
$1,000.00
$600.00
$600.00
$600.00
Examples
Position #1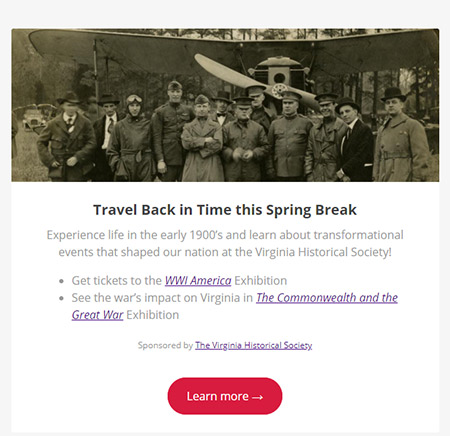 Positions #2 and #3