Place banner and video ads in front of targeted audiences who are interested in travel.
Role of Channel: Awareness > Consideration > Conversion
Contact:
Jo Diedrich: [email protected]
Nell Wichmann: [email protected]
---
WHY LEISUREMEDIA360?
Programmatic advertising – placing digital ads via real- time bids and optimizations – allows you to reach the right people at the right time for the right price.
Segment audiences and highly target consumers based on age, location and interests.
LeisureMedia360 will work with you from start to finish, to develop your campaign, produce creative and provide performance analytics.
Streamlined targeting for banner and video opportunities (previously basic vs. super targeting).
---

PARTNER OFFER

TARGETING
Inventory targeted against geography, demographics, interest and behaviors.
Retargeting also included as added value.
Targeted audience segments include: Family, Outdoor, Food & Wine, Music Lovers, History Lovers or even more specific audiences based on goals.
PRICING
Monthly campaigns available in:
2022: July, August, September and October
2023: April, May and June
Banner Ads
$2,990 for 600,000 monthly impressions* (minimum investment)

*1 creative execution in various sizes; must include VTC logo
Video Ads
$6,200 for 200,000 monthly impressions (minimum investment)
Creative Services
Partner may run existing banners as is.
LeisureMedia360 may create banners for partner but must include the VIFL logo.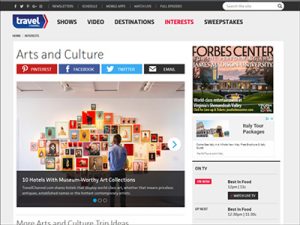 ---