Information for Virginia Tourism Industry Partners.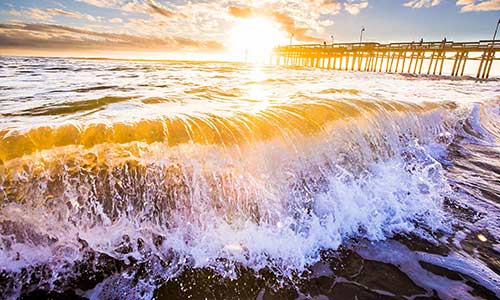 News and Opportunities for the Virginia Travel Industry
May 2017
National Travel and Tourism Week

May 7-13, 2017
Virginia Tourism is participating in National Travel and Tourism Week by showcasing tourism product through our sub-brands that are changing the face of communities throughout Virginia. Thank you to those that submitted entries via our PR leads list call out. Sub-brands highlighted are Outdoor, Oysters, Wine, Craft Beer, Music, Lodging and The Arts. Stay tuned for video and content for #nttw17 across our social channels.
Grants and Funding

Virginia Tourism Corporation Marketing Leverage Program Applications are OPEN!
Applications are now open and are due back no later than June 27 by 5:00 PM.  Note that if you want to take advantage of a draft review, the draft deadline is June 6 by 5:00 PM.
The VTC Marketing Leverage Program is designed to stimulate new tourism marketing programs through the creation of tourism partnerships, to leverage partners' marketing budgets,  and to extend the "Virginia is for Lovers" campaign.

Virginia World War I and World War II Tourism Marketing Program Applications are now open
Applications are due back no later than May 30 by 5:00 PM. The Virginia World War I and World War II Commemoration Commission (the Commission) was created by the General Assembly to plan, develop, and carry out programs and activities to commemorate the 100th anniversary of World War I and the 75th anniversary of World War II. The purpose of the Virginia World War I and World War II Tourism Marketing Program – administered by the Virginia Tourism Corporation (VTC) – is to assist Virginia communities and related World War I and World War II sites to market commemorative events, locations, and destinations.
Digital Marketing

VTC Social Media Guide
View our Social Media Guide to connect with VTC's social channels and hashtags.

Lesser Known Summer Vacation Ideas Needed
For an upcoming blog we are looking for lesser known Summer vacation ideas. Please email Tricia Keppel with your information and your link on Virginia.org. You must be listed on Virginia.org for possible inclusion.
Log into the Admin Tool to get started. Email Robin Mamunes at

[email protected]

for assistance.See our content calendar for 2017.

July 4th Content Needed
July 4th is one of the most popular sections on Virginia.org. Be sure you are included! We use this information in blogs and articles that we will be highlighting through our social channels and newsletters. You must be listed on Virginia.org for possible inclusion.
Log into the Admin Tool to get started. Email Robin Mamunes at

[email protected]

for assistance.

Advertise in the Virginia Tourism eNewsletters and on Virginia.org
Advertising is available for placements on Virginia.org and in the monthly enewsletters.

Get information on pricing and the availablity for the Monthly and seasonal emails.

Advertise on Virginia.org – For advertising on Virginia.org contact LeisureMedia360.

Add your LGBT Designation to your Listings
Are you a Virginia business or event venue who are warm and welcoming to everyone, including LGBT family, couples and friends? If so, NOW is the time to visit http://admin.virginia.org to add/update your listing on Virginia.org. BE SURE TO CHECK the 'LGBT-friendly" box. We need events, wedding venues, wineries, craft breweries, distilleries, cideries, itineraries, dining, shopping, and outdoors. You'll also be featured on www.Virginia.org/LGBT.

Log into the Admin Tool to get started. Email Robin Mamunes at [email protected] for assistance
Consumer Services

New NOVA Gateway Welcome Center Enrollment
Enroll to distribute brochures, reserve an ad panel, run a digital spotlight on our 65" inch wall monitor or have a monthly tourism blitz at our NEW Northern Virginia Gateway Welcome Center, on I-95N, Mile Marker 107. Prorated fees for brochure distribution available for 2017. For more information contact Lindsay Slone, (804)922-7908 with HI Media.




Bring LOVE to your Destination or Event
Request our popular LOVEwork to promote your destination and to create a memory for those who come to your event!  Please submit this LOVEwork application request. Note in the comments section on the form if you would like to lease the Pride LOVEwork rather than the Standard LOVEwork. For questions, contact Marie Henderson – (804) 545-5520.
Groups, Sports and Meetings

Partnership Opportunity at Connect Marketplace
VTC is offering two great affordable face time opportunities for you to network with the sports and association planners attending Connect Marketplace in New Orleans, LA on August 21-23, 2017. Past events have drawn 80-200 planners.  Email Joni Johnson to learn more.

Lead Reports Available from Domestic Sales and Marketing
It's never too late to create or enhance your domestic sales database and potential business by requesting sales leads generated from desk side buyer appointments and trade shows.

National Tour Association, Feb.25-March 2, 2017 – St. Louis, MO
Rendezvous South, February 27-March 1, 2017 – Roanoke, VA
Travel South Showcase, March 12-15, 2017 – Branson, MO

Contact Stephanie Kenney these e-reports. For a complete listing of tour & travel and meetings & conventions business development e-reports, visit Vatc.org/marketing/groupsmeetingssports/groups/leads.

Domestic Sales Blog
Please send your recommendations/updates for the following to Stephanie Kenney by Friday, May 12:

Meetings & Conventions: Waterfront Meeting Venues
Tour & Travel: STEM Certified Activities and Programs
International Marketing

IPW Volunteer Shifts Are Now Open!
IPW is the largest generator of travel to the United States, and will bring tour operators from around the globe to Washington, DC June 3-7.
We need you to  volunteer with us to show the world just how cool this city is! Once you have registered, you can select shifts that fit your schedule. Feel free to claim as many shifts as you want.
Virginia Film

Audience Awards Online Short Film Contest
Calling all film lovers! Virginia Tourism and the Virginia Film Office have partnered together to launch an online short film contest! The contest opens on December 3rd and will be accepting submissions until May 29th 2017. $15,000 will go to the winning shorts- so don't miss out! The contest is managed by the Audience Awards platform; for full details go to Virginia.org/filmlovers. For more information contact: Emily Wyman.
Education and Workshops

June 7-8, VTC Orientation Session Filling Up Fast!
Join us for a one-and-a-half-day interactive session in Richmond where you will you learn about VTC's marketing strategies and programs and how you can work with VTC. Orientation is a must for tourism marketers, DMOs, managers/owners of Virginia tourism properties and those who want to increase their visitation. 2017 Orientation Dates: June 7-8; Sept. 27-28; Nov. 29-30. Cost: $45.

2017 SWVA Economic Forum
Please join the effort to revitalize Southwest Virginia by attending the 2017 Economic Forum.  Learn how your business, community or organization can actively contribute to the region's success.
May 10, 2017
8:30 a.m. – 3:30 p.m.
David J. Prior Convocation Center
UVa-Wise, Wise, VA
Virginia Green

Virginia Green Festivals & Events
Please register your Virginia Green Festivals & Events to be on the Virginia Green Events Calendar!  If you are already a certified Virginia Green partner and you have recycling in place for each event, you can consider any event that you host a Virginia Green Event.  And if your festival or event would like to become a certified Virginia Green Event, here are the instructions on qualifying for certification.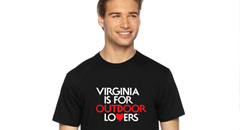 Virginia is for Lovers Store
This super soft, American Apparel® brand, jersey t-shirt will have you fitting into the natural beauty and splendor of Virginia. Decorated with the Virginia is for Outdoor Lovers™ logo.
Order Now →

© 2017 Virginia Tourism Corporation
901 E. Cary St., Suite 900, Richmond, VA 23219 | 800-847-4882