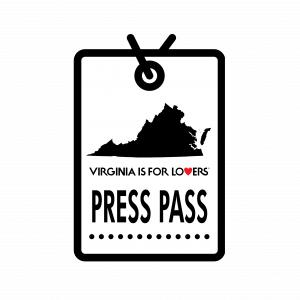 The Virginia is for Lovers Press Pass is a program designed to help destination partners collaborate in bringing domestic journalists to the Commonwealth of Virginia and to work directly with Virginia Tourism Corporation (VTC) PR staff and VTC Field Team representatives once approved.
For qualifying applicants, VTC can provide airfare and car rental or mileage assistance for these editorial research trips.
How to Secure a Press Pass
The following criteria must be met for successful applicants:
Journalist must have:

A confirmed assignment
Recent editorial placements
A sustained relationship with a "most wanted" media outlet identified by Virginia Tourism Corporation or be a targeted digital influencer.

At least 3 DMO partners must collaborate.
Proposed itinerary for the visiting journalist or digital influencer must incorporate at least three DMO areas and generate editorial coverage for each area visited.
Guidelines and Restrictions
Guidelines:
At least 3 DMO partners must collaborate. A DMO primary lead must be chosen to complete and submit the below form in its entirety.
Applications must be submitted at least six weeks prior to travel by the journalist.
Assisted journalist must be visiting three different DMO areas in Virginia, with confirmed coverage outlined for each location on this application.
It is at VTC's discretion as to which Virginia is for Lovers Press Pass applications are approved, based on alignment with the organization's U.S. earned media strategy and overall marketing goals.
Upon approval the primary DMO contact must connect with VTC to coordinate the following logistics:

Connect VTC with the journalist to book air transportation and reserve rental car if needed.
DMO must submit a copy of the final itinerary to VTC.
Restrictions:
Under the Virginia is for Lovers Press Pass, VTC does not provide accommodation, admission to attractions/tours, meals, or any additional on the ground expenses. Only airfare and car rental or mileage will be provided for applicants that qualify for assistance.
Mileage is paid at the 2018 Internal Revenue Service confirmed rate of U.S. 54.5 cents per mile for business miles driven.
Domestic journalists only. International journalists will not be considered.
VTC staff reserves the right to determine a "reasonable" amount of days for a media request, based on their stated story focus and length.
Apply for the Virginia is for Lovers Press Pass here. Password Protected.
To request access to the page,  contact the VTC PR Team.
For more information, contact Virginia Tourism Corporation Communications Director Caroline Logan, clogan@virginia.org.