Travel sites like TripAdvisor are one of the top places people look when planning a trip.
Receive a 75% rate reduction on run-of-site (ROS) banner placements on TripAdvisor.com. Banners will be geo-targeted* and will run alongside mid-Atlantic content.
*Served to users within a 200- to 400-mile radius of Virginia who are actively looking at mid-Atlantic content on TripAdvisor.
CONTACT: MARK PRESTON
NEW IN 2019
This year's TripAdvisor offering includes Restaurant Premium Soluutions, which allows restaurant partners to enhance their listing.
WHY TRIPADVISOR?
TripAdvisor.com is the top travel review site reaching 450 million average monthly unique visitors. Engage with travel enthusiasts actively looking for travel inspiration and resources. Showcase your brand and offerings and drive visitation to your website.
INDUSTRY PARTNER OFFER
Run-of-Site Banners
Partner investment $7,500 minimum; $50,000 maximum
VTC investment (50% match); maximum match of $25,000
TripAdvisor investment (25% match)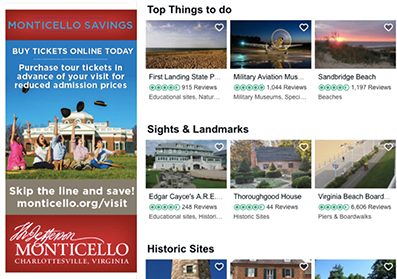 Restaurant Premium Solutions
TripAdvisor Premium is a subscription product designed to help restaurants stand out from the competition. With Premium, you can receive a 20% discount code to upgrade from a basic listing (photos, business details and reviews) to a premium listing that includes:
Storyboard – turn static photos into a storyboard, or "best of" photos and reviews
Top three reasons to eat here – appears as a new section above your reviews to entice customers to visit your restaurant
Favorite review – appears in the #2 review space to spotlight a great experience by another diner
Restaurant Premium Solutions also includes performance data and analytics.
You do not need to participate in the ROS banner program to receive this. This is added value that is offered to any restaurant in Virginia.