Virginia Travel Post for July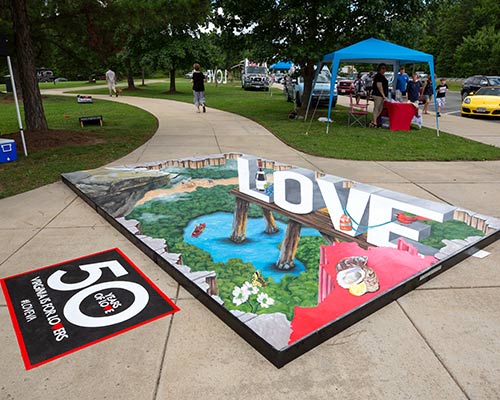 Image: 3D LOVEwork, recently displayed at the East Coast Gateway Welcome Center
News and Opportunities for the
Virginia Travel Industry

Brand Management

50 Years Of LOVE

Pop-Up Events at Welcome Centers

Through August 10, our special 3D LOVEwork is traveling to 50 Years of Love events at Virginia Welcome Centers, where visitors can take photos, receive a commemorative postcard and participate in giveaways. Media will also be invited to the upcoming Pop-Ups at Bristol (July 19) and Northern Virginia Gateway (Aug. 9-10). Contact Danielle Emerson with questions.

Industry Advertising Co-Op Program


FY19 submissions for reimbursement are due July 31 (Social, Search and Cable TV programs). All FY20 programs are open for application. Contact Lindsey Norment with questions.

Call For Entries: 2020 Virginia Travel Guide Covers


Calling all photographers! We're looking for your best and most beautiful images of Virginia to feature on the cover of our 2020 Travel Guide. Find out how to submit your images below.

Digital Marketing

Advertise In The Consumer eNewsletters

Placements are available for the 2019 and 2020 eNewsletters. 3 positions are available at varying costs. See the calendar and specifications. See pricing and sign up for a placement here.

Content Needs For Virginia.org

It's summer and there are festivals, and Labor Day events on Virginia.org that need updating. Please be sure all of your content is up to date so you are visible on our site. And Fall is not far away! Log into the Admin Tool to update your expired or add your new events and packages. Questions? Contact Robin Mamunes.

Groups, Sports and Meetings

Domestic Sales Blog

Please send your recommendations for the following to Stephanie Kenney by Friday, July 19:

Fall Fun Itineraries and Trip Ideas

Breweries with Event Space, part 4 (new venues preferred)

Volunteers Still Needed For State Games Of America

The State Games of America will be hosted for the first time in Virginia in Lynchburg – July 31 -August 4, 2019.
Volunteer Here to help welcome 15,000 athletes and their families.

Consumer Services

Welcome Center & Safety Rest Area Brochure Distribution

SAVE 50%! Capture the eye and interest of visitors that are already here – increase your exposure to millions of Virginia in-market visitors. Enroll your brochure in the I-95, 85 & 66 Safety Rest Area corridor for the remainder of 2019 for ONLY $1,605.00. Act now to take advantage of one of PMAP's best values per pull and per impression, as space is limited. Enroll here!

Bring the LOVE to your Destination

The LOVEwork has been traveling around the state creating excitement wherever it goes! Get your requests in now for Fall and Winter 2019 and have the LOVE at your event or destination. Just submit our LOVEwork application. It's that easy! For questions, contact Noelle Baker – (804) 545-5520.

Education and Workshops

VTC Orientation Program

Join us for a one-and-a-half-day interactive session in Richmond where you will learn about VTC's marketing strategies and programs and how you can work with VTC. Orientation is a must for tourism marketers, DMOs, managers/owners of Virginia tourism properties and those who want to increase their visitation. The 2019 Orientation Dates are: Sept. 18-19 and Dec. 4-5. Cost: $45.

VA1 Tourism Summit

Crafting a Powerful Story
November 17 – 19, 2019
Crystal Gateway Marriott, Arlington
Join us at the 2019 VA1 Tourism Conference as we focus on Crafting a Powerful Story. Gather with 500 of your peers in Arlington to explore, learn, and connect.

Virginia Restaurant, Lodging and Travel Association

VRLTA Ordinary Awards

VRLTA (Virginia Restaurant, Lodging and Travel Association) is now accepting nominations for the 2019 Ordinary Awards, which recognize Virginians who demonstrates exemplary passion for the hospitality and travel industry.
The awards feature 18 individual and organizational awards across four primary categories: Travel, Lodging, Restaurant and Beverage/Others. Awards include categories such as Restaurant Employee of the Year, Chef of the Year, Hotelier of the Year, Attractions of the Year, etc. Nominations are due Sept. 6, 2019; winners will honored at a gala dinner in Richmond on Oct. 10 at the Hilton Richmond Hotel & Spa / Short Pump.

Virginia Green

Thou Must Re-Certify!

If you joined the Virginia Green Travel program longer than 2 years ago and haven't re-certified, you are now officially no longer Virginia green-certified. We are trying to be very flexible with our partners during this process, but the Virginia Green logo will be removed from your listings and search-filters with VTC absolutely by the end of 2019. You would also be asked to remove the Virginia Green logo from your facility, website and sale materials. So please re-certify! All of the Virginia Green Travel Certification information is found here – and you will see that there are now 2 levels of certification from which to choose.
© 2019 Virginia Tourism Corporation
901 E. Cary St., Suite 900, Richmond, VA 23219
800-847-4882 | Contact Us