Virginia Travel Post for November

News and Opportunities for the
Virginia Travel Industry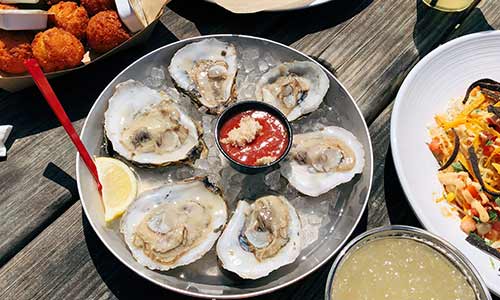 2018 VA-1 Tourism Summit:
Tourism Produces

Don't Miss Governor Northam!

The Honorable Ralph Northam, Governor of Virginia, will headline the VA-1 Tourism Summit as our distinguished guest of honor on Tuesday, November 13th. Governor Northam will speak on the important role the tourism industry plays in Leading Virginia Forward. Don't miss this incredible opportunity to hear Governor Northam speak on why Tourism Means Business in Virginia.


Marketing

Luxury Travel Partnership

VTC will enter a new partnership with United Vacations and the Metropolitan Washington Airport's Authority to promote Virginia's luxury travel product. The promotion will commence in March of 2019 and will include luxury experiences and accommodations. The product will be bookable on the United Vacations website and will be featured on a new Virginia.org landing page currently in production. Please send luxury travel ideas and accommodation listings to Monica Mitchell at mmitchell@virginia.org. Please share accreditations, ratings, awards, etc. that place the travel product in the luxury category. All entries should be submitted by December 19, 2018.


Brand Management

FY19 Co-Op Industry Advertising Program Now Available

Visit vatc.org to learn all about the 2019 Co-Op Industry Advertising programs. If you were unable to attend one of the Co-Op Presentations and have questions, Contact Shannon Johnson at sjohnson@virginia.org


International Marketing

Institut de tourisme et d'hôtellerie du Québec (ITHQ) is Seeking Internship Opportunities for their Students

Internships have been an integral part of the ITHQ's proven means of learning for more than 45 years and are an essential complement to the training offered. All ITHQ training programs are in a work-study mode and therefore include internships in companies in Quebec, Canada or abroad. Most are paid (with a Quebec tax credit) and have a minimum of 350 hours, depending on the program.

Digital Marketing

Holidays and winter!

Please update or add all of your holiday related events (tree lightings, parades, performances, winery events, holiday shopping etc.) and your winter packages and deals, activities, and events to Virginia.org so you'll be included in the many articles and features on Virginia.org and possible inclusion on blog.Virginia.org. Log in at  http://admin.virginia.org.
Contact Robin Mamunes at rmamunes@virginia.org if you have questions.

New Leadership in VTC Digital Marketing

Tom Kirk has been named Acting Director of Digital Marketing after the departure of Dave Neudeck. Please contact Tom for any digital marketing deparment needs. His contact information is listed on the Digital Marketing pages on VATC.org

Join us at the VA-1 Digital Marketing Session

Space is still available for the Digital Marketing Workshop at VA-1. It takes place from 8-11am on Monday, November 12, 2018. Cost is $95

Groups, Sports and Meetings

VA Sports Summit

Don't miss this educational opportunity to learn more about the sports event market. Save the dates of February 5-6, 2019 and register for the Virginia Sports Summit presented by the Hampton Roads Sports Commission and supported by Sports Virginia.

Domestic Sales is planning for ABA Marketplace

Please mail or email Joni your profile sheet and new suggested tour itineraries.

Also, let us know what's new in your destination by filling out this form.

Domestic Sales Blog
Get in front of 5 million visitors to blog.Virginia.org!

Please send your recommendations for the following to Stephanie Kenney by Friday, November 16:


Holiday Fun Trip Ideas and Itineraries
Group Dining Experiences with Holiday Décor and Flair

Consumer Services

Partnership Marketing and Advertising Program (PMAP) 2019 Renewals

It's almost time for the 2019 renewals in our Partnership Marketing and Advertising Program at the Virginia Welcome Centers and Safety Rest Areas! Look for information soon on how to renew your brochure or publication. And… if you have not signed up to have your brochure in the VA Welcome Centers or Safety Rest Areas for 2018, there is still time! Visit our website, www.welcomeva.com, and register today.




Bring LOVE to your Destination or Event

Request our popular LOVEwork to promote your destination and create a memory! Please submit the LOVEwork application request. Check on the form if you would like to lease the Pride LOVEwork or the Standard LOVEwork.  For questions, contact Noelle Baker – (804) 545-5520.

Education and Workshops

VTC Orientation Program

Join us for a one-and-a-half-day interactive session in Richmond where you will learn about VTC's marketing strategies and programs and how you can work with VTC. Nov. 28-29. Cost: $45. 

Virginia Commission for the Arts Presents Statewide Application Assistance Workshops

The Virginia Commission for the Arts (VCA) will present a series of statewide application assistance workshops in November and December 2018. VCA staff will provide an overview of grant programs, including information about the new VCA Online Grant Application System as well as updates to the Guidelines for Funding, application and review procedures and more. Workshop locations include: Chatham, Abingdon, Waynesboro, Glen Allen/Richmond, Lorton, Winchester and Virginia Beach.

Virginia Green

Virginia Green Travel Star Awards Application Deadline

Extended to November 9th! Last year, 34 Virginia Green Travel Partners were recognized in 22 sector-based award categories — there is still time to apply and you can meet the deadline by letting us know that your application is on the way. New this year, awards for individuals — Green Team Leaders Awards.
Website and Blog Visitation for October 2018

Sign up for the Virginia Travel Post.

Oyster Lovers Toadfish Outfitters™ Oyster Knife
Order Now →
© 2018 Virginia Tourism Corporation
901 E. Cary St., Suite 900, Richmond, VA 23219
800-847-4882 | Contact Us