Information for Virginia Tourism Industry Partners.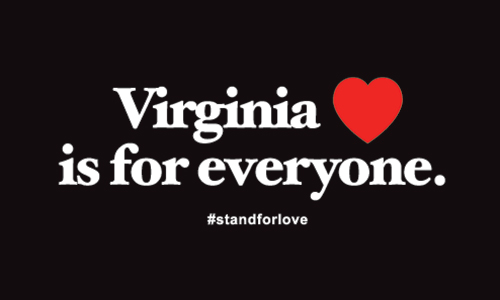 News and Opportunities for the Virginia Travel Industry
September 2017
Governor McAuliffe Announces Tourism Revenue for All Virginia Regions

Tourism reached $24 billion statewide in 2016, with continued growth in all regions across the Commonwealth
Virginia's tourism revenue reached $24 billion in 2016, a 3.3 percent increase over 2015. In 2016, domestic travelers spent nearly $65 million per day across the Commonwealth. The tourism industry also contributed $1.7 billion in state and local taxes, an increase of 5.3 percent. Employees in Virginia's travel industry earned $5.6 billion in payroll income, representing a 5.4 percent increase over 2015. In recently released data, all regions across the Commonwealth saw tourism growth in 2016. The industry is the fifth largest private employer in the Commonwealth supporting 230,000 jobs. Read the full press release.
#StandforLOVE

The LOVE Movement: Join VTC and #StandforLOVE
Events in Charlottesville over the weekend of August 11 have thrust our tourism partner and the Commonwealth of Virginia into the national spotlight. Now is the time to remind the world what Virginia stands for. Use our toolkit to show how you stand for love.
New VATC.org

VATC.org has been updated!
Check out the newly revised VATC.org, your source for all things Virginia Tourism! The site is now mobile ready but still full of all the tools you need to work with Virginia Tourism Corporation to bring visitors to your businesses and destinations.
VA-1 Tourism Summit

Early bird pricing extended
The 2017 VA-1 Tourism Summit is excited to welcome Keynote Speakers Roger Dow, President and CEO of U.S. Travel Association, and Sean Burch, Explorer, Leadership Expert and 8x World Record Holder. The Summit will provide attendees with meaningful and insightful content on Charting Change and growing tourism in 2017 and beyond. VA-1 will be held November 12-14, 2017 at the Hilton Norfolk The Main. Take advantage of the extended Early Bird pricing by registering by September 22.
Brand and Advertising

VTC Industry Advertising Program

The 2018 Industry Advertising Plan offers affordable, flexible advertising opportunities for our industry partners' campaigns, running from July 2017 – June 2018, with VTC investing and buying down more than ever before. There are more opportunities than just advertising in this plan, and it reflects both what we know partners need, and the current media landscape.
Grants and Funding

Virginia Tourism Corporation Marketing Leverage Program Applications

Applications will open on Sept. 6 and will be due back on Dec. 5. Note that if you want to take advantage of a draft review, the draft deadline will be Nov. 7 by 5:00 PM.
The VTC Marketing Leverage Program is designed to stimulate new tourism marketing programs through the creation of tourism partnerships, to leverage partners' marketing budgets, and to extend the "Virginia is for Lovers" campaign.

Virginia World War I and World War II Tourism Marketing Program applications are now open!

NEW!! MAXIMUM AWARD AMOUNT $10,000
The purpose of the Virginia World War I and World War II Tourism Marketing Program is to assist Virginia communities and related World War I and World War II sites to market commemorative events, locations, and destinations. Applications are due on September 19, 2017.
Digital Marketing

Fall Content Needed
Even though it is still green, Fall is here! Visitors are planning now. Be sure your information is up-to-date on Virginia.org. Please update and/or add your Fall content through the admin tool here: http://admin.virginia.org.

Remember to update expired events rather than create new listings for the events.

Please email Robin Mamunes at rmamunes@virginia.org with questions.

Spots available in the Virginia Tourism eNewsletters and on Virginia.org
Advertising is available for placements on Virginia.org and in the monthly enewsletters.
Get information on pricing and the availability for the Monthly and seasonal emails.
Advertise on Virginia.org – For advertising on Virginia.org contact LeisureMedia360.
Consumer Services

New NOVA Gateway Welcome Center Enrollment
Enroll to distribute brochures, reserve an ad panel, run a digital spotlight on our 65" inch wall monitor or have a monthly tourism blitz at our NEW Northern Virginia Gateway Welcome Center, on I-95N, Mile Marker 107. Prorated fees for brochure distribution available for 2017. For more information contact Lindsay Slone, (804)922-7908 with HI Media.




Bring LOVE to your Destination or Event
Request our popular LOVEwork to promote your destination and to create a memory for those who come to your event! Please submit this LOVEwork application request. Note in the comments section on the form if you would like to lease the Pride LOVEwork rather than the Standard LOVEwork. For questions, contact Marie Henderson – (804) 545-5520.

Host the Visitor Centers Seminar
Bring more than 100 dedicated tourism professionals to your city/county by hosting the 2018 Visitor Centers Seminar. Work closely with VTC to spotlight your tourism assets and help to educate our industry.
Groups, Sports and Meetings

Lead Reports Available from Domestic Sales and Marketing

Looking for new prospects? It's never too late to create or enhance your domestic sales database and potential business by requesting our sales leads generated from desk side buyer appointments and trade shows.
For a complete listing of business development e-reports, visit Vatc.org/marketing/leads or contact Stephanie Kenney.
International Marketing

FREE Opportunity to reach the Canadian market!

Do you have a brochure that relates to food and wine? Ship 200 to Canada and our representatives will distribute it at the Toronto Gourmet Food and Wine Show, November 16-19, 2017. Contact Jane Lammay for shipping address and deadline.

IPW 2018

Join us in Denver for the travel industry's premier international marketplace and the largest generator of travel to the US. The show is May 19-23, 2018. If you are interesting in joining the VTC booth, please contact Jane Lammay
Education and Workshops

Chesapeake Connections: Training for Impactful Visitor Experience
A Workshop for Museum Professionals in Virginia
Virginia Tourism Corporation and the National Park Service are teaming up to help small local museums create engaging and meaningful visitor experiences. Participants will learn basic interpretive techniques, how to incorporate hands-on techniques, where to look for potential funding sources, and how to marketing museums and programs.
September 28, 2017 Hampton Inn, Gloucester
October 26, 2017 Comfort Suites, Chincoteague

Visit Virginia's Blue Ridge Hospitality Training Workshops
Thursday, September 14th, 2017, 1pm-5pm

Virginia Western Community College, Roanoke, VA
$49 per person. This includes resource materials, Information Book and a VIP Pass to area attractions at the conclusion of the workshop. Questions? Contact Alexandra Chitwood at achitwood@visitvbr.com or (540) 342-6025 Ext. 126.
Virginia Green

It's Time to Apply for a Virginia Green Travel Star Award!

The Virginia Green program recognizes certified partners in more than 18 sector categories. This year's awards will be presented at the 5th annual Virginia Green Travel Conference that will be held March 1-2, 2018 at the Virginia Beach Convention Center. The awards application is available here – submission deadline is October 4th. Please apply!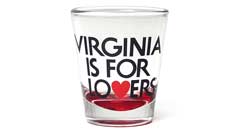 Virginia is for Lovers Store
Just in time for Spirits Month, this red bottom shot glass will look great on your bar, in your collection, or in all of your holiday stockings and gift baskets! Also makes the perfect party favor. The official Virginia is for Lovers® is printed on the side.
Holds 1.75 fl. oz.
Order Now →

© 2017 Virginia Tourism Corporation
901 E. Cary St., Suite 900, Richmond, VA 23219 | 800-847-4882