Information for Virginia Tourism Industry Partners.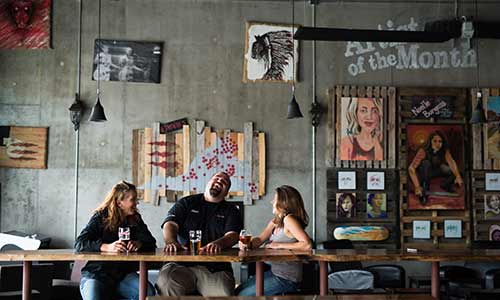 News and Opportunities for the Virginia Travel Industry
August 2017
Tourism Advocacy

Send us a photo!
Virginia's tourism industry is growing at record levels and you are a reason why.  Please send us a photo or photos of tourism businesses that are new in your community in the last four years and tell us about them. Think about hotels, restaurants, craft brewers, wineries, distilleries, festivals/events, trails, museums, attractions, outdoor experiences and etc.

You can e-mail us directly at vtcresearch@virginia.org
Virginia is for Lovers

August Virginia Craft Beer Month Contest
During the month of August, we are encouraging consumers to post a photo or video to Instagram in a "toast" style about their favorite Virginia beer, brewery or craft beer experience.

Visit vatc.org/craftbeermonth for contest details and promotional materials, including printable flyers and shareable Instagram stories.

Questions? Contact Thad Smith or Lindsey Norment

VTC Industry Advertising Program
The 2018 Industry Advertising Plan offers affordable, flexible advertising opportunities for our industry partners' campaigns, running from July 2017 – June 2018, with VTC investing and buying down more than ever before. There are more opportunities than just advertising in this plan, and it reflects both what we know partners need, and the current media landscape.
Grants and Funding

Virginia Tourism Corporation Marketing Leverage Program Applications
Applications will open on Sept. 6 and will be due back on Dec. 5.  Note that if you want to take advantage of a draft review, the draft deadline will be Nov. 7 by 5:00 PM.
The VTC Marketing Leverage Program is designed to stimulate new tourism marketing programs through the creation of tourism partnerships, to leverage partners' marketing budgets, and to extend the "Virginia is for Lovers" campaign.

Virginia World War I and World War II Tourism Marketing Program applications are now open!
NEW!! MAXIMUM AWARD AMOUNT $10,000
The Virginia World War I and World War II Commemoration Commission will plan, develop, and carry out programs and activities to commemorate the 100th anniversary of World War I and the 75th anniversary of World War II.The purpose of the Virginia World War I and World War II Tourism Marketing Program is to assist Virginia communities and related World War I and World War II sites to market commemorative events, locations, and destinations. Applications are due on September 19, 2017.

World War I and World War II Tourism Partner Briefings and Help Desk Sessions
Attend one of the upcoming Partner Briefings and Help Desk sessions to update you on the World War I and World War II Commemorations including major events in the works for 2018 – 2020; Virginia WWI and WWII Tourism Marketing Grants; Profiles of Honor Tour and document scanning; and Keep the Spirit of '45 Alive Day in Virginia.
Digital Marketing

Upcoming Content Marketing
Want to be included in a blog or an article on Virginia.org? Check out our content marketing calendar for topics that we might be highlighting. You must be listed on Virginia.org for possible inclusion in any blog or article.  We plan these blogs in advance. Having your listing on Virginia.org does not guarantee a placement in the blog, but if it fits a theme that we are writing about you may be included.
Log into the Admin Tool to add your listing. Email Robin Mamunes at rmamunes@virginia.org for Admin/listing assistance. Patricia Keppel with Blog questions pkeppel@virginia.orgSee our content calendar for 2017.

Fall Content Needed
Fall is just around the corner and that means we'll be highlighting Fall Festivals, Halloween, Pumpkin Patches/Corn Mazes and Ghost related events throughout the State. Please update and/or add your Fall content thru the admin tool here: http://admin.virginia.org.

Remember to update expired events rather than create new listings for the events.

Please email Robin Mamunes at rmamunes@virginia.org with questions.

Advertise in the Virginia Tourism eNewsletters and on Virginia.org
Advertising is available for placements on Virginia.org and in the monthly enewsletters.

Add your LGBT Designation to your Listings
Are you a Virginia business or event venue who are warm and welcoming to everyone, including LGBT family, couples and friends? If so, NOW is the time to visit http://admin.virginia.org to add/update your listing on Virginia.org.You'll also be featured on www.Virginia.org/LGBT.
Log into the Admin Tool to get started. Email Robin Mamunes at rmamunes@virginia.org for assistance
Consumer Services

New NOVA Gateway Welcome Center Enrollment
Enroll to distribute brochures, reserve an ad panel, run a digital spotlight on our 65" inch wall monitor or have a monthly tourism blitz at our NEW Northern Virginia Gateway Welcome Center, on I-95N, Mile Marker 107. Prorated fees for brochure distribution available for 2017. For more information contact Lindsay Slone, (804)922-7908 with HI Media.




Bring LOVE to your Destination or Event
Request our popular LOVEwork to promote your destination and to create a memory for those who come to your event!  Please submit this LOVEwork application request. Note in the comments section on the form if you would like to lease the Pride LOVEwork rather than the Standard LOVEwork. For questions, contact Marie Henderson – (804) 545-5520.

Host the Visitor Centers Seminar
Bring more than 100 dedicated tourism professionals to your city/county by hosting the 2018 Visitor Centers Seminar. Work closely with VTC to spotlight your tourism assets and help to educate our industry.
Groups, Sports and Meetings

Lead Reports Available from Domestic Sales and Marketing
Have we told you lately? It's never too late to create or enhance your domestic sales database and potential business by requesting sales leads generated from desk side buyer appointments and trade shows.

Meetings & Conventions – Smart Meetings Mid-Atlantic, July 20, 2017 – Lansdowne, VA

For a complete listing of business development e-reports, visit Vatc.org or contact Stephanie Kenney.
Education and Workshops

VTC Orientation Session
Join us for a one-and-a-half-day interactive session in Richmond where you will learn about VTC's marketing strategies and programs and how you can work with VTC. Orientation is a must for tourism marketers, DMOs, managers/owners of Virginia tourism businesses and those who want to increase their visitation. The remaining 2017 Orientation Dates: Sept. 27-28 and Nov. 29-30. Cost: $45.

Visit Virginia's Blue Ridge Hospitality Training Workshops
Thursday, August 17th, 2017, 1pm-5pm

Virginia Western Community College

Fralin Center for Science-Room HP208

3091 Colonial Avenue, SW

Roanoke, VA 24015

Thursday, September 14th, 2017, 1pm-5pm

Virginia Western Community College

Natural Science Center-Room N101

3102 Colonial Avenue, SW

Roanoke, VA 24015
$49 per person. This includes resource materials, Information Book and a VIP Pass to area attractions at the conclusion of the workshop. Questions? Contact Alexandra Chitwood at  achitwood@visitvbr.com or (540) 342-6025 Ext. 126.

VA-1 Tourism Summit
Registration is now open. The 2017 VA-1 Tourism Summit aims to connect Virginia's Experiences, encouraging attendees to think beyond their own product and develop big picture ideas. VA-1 will be held November 12-14, 2017 at the Hilton Norfok The Main. Take advantage of early bird pricing by registering by August 31.

The VRLTA 2017 Ordinary Awards Accepting Nominations
The Ordinary Awards celebrate and honor all of Virginia's restaurants, lodging establishments and hotels, DMOs, attractions, and more. The Awards, presented by the Virginia Restaurant, Lodging & Travel Association (VRLTA), are open to both members and non-members of the Association. Nominations are due by Friday, August 25, 2017.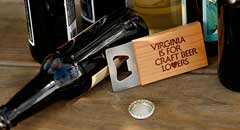 Virginia is for Lovers Store
Craft Beer Lovers Wooden Bottle Opener. Crack open a cold one with this classy wooden bottle opener. Small enough to take and use anywhere! Made in Virginia. Decorated with the Virginia is for Craft Beer Lovers™ logo.
Order Now →

901 E. Cary St., Suite 900, Richmond, VA 23219 | 800-847-4882
© 2017 Virginia Tourism Corporation